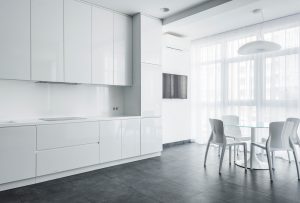 First impressions for home buyers start at the street. If you cannot lure them into the house, they are never going to buy it.
1. SAFETY FIRST: Eliminate slippery throw rugs, loose steps, or any other hazard that could lead to an unfortunate accident involving your potential buyers.
2. CURB APPEAL: Homes with a properly trimmed yard, clean sidewalks, and maintained gardens invite potential buyers inside to see the same orderliness in the home.
3. CLUTTER CLEAN UP IS A PRIORITY: Once your house is on the market, have a minimalist approach to furniture and other household items.  Arrange furniture into more efficient locations, remove excess furnishings and accessories and personal pictures, particularly off of counter tops. Box and store the clutter from closets, cabinets and drawers, keeping only what is minimally needed to live there. Rooms will seem larger
4. WALLS: One of the biggest turnoffs for buyers comes from worn or damaged walls. Touch up any scratches, holes, or other damage.
7. BATHROOMS: A dirty bathroom is an embarrassment and bathrooms are a big deal to a lot of buyers. So give them a deep cleaning.
Organize the drawers and linen closets, trash what you don't need,
8. OUTDOOR LIVING: Comfy patio chairs, fresh flowers in pots, and citronella candles to keep the mosquitoes away during the summer. Clean and inviting is the look you are going for.
9. BEDROOMS: Make the beds, get rid of the clutter, and organize anything remaining.
10. LIGHTING: A dark or dimly lit home comes off as gloomy or unappealing, while light is warm and welcoming.
Please visit my website, StallingsandSmith.com for more buying, selling and homeowner tips. These issues impact days on market and price. Be aware of them every day, because you do not know when I buyer will pull up to the curb in front of your house.
Walt Smith, Broker
Coldwell Banker Residential Brokerage
Walt-Smith@live.com
803 622 5210